An Exciting Culinary Adventure Awaits
Discover fun & social cooking classes at top restaurants near you. No experience needed.
High Quality Chefs
---
Have fun and learn at the same time from the best local chefs.
Amazing Venues
---
Venues from restaurants to bars and hotels play host to a fun cooking class!
Beginners to Experts
---
From kitchen amateurs to cooking gurus, our cooking classes are good for everyone - no experience needed!
Various Cuisines
---
Book French, sushi, pasta-making events and more, with new options added every week.
---
---
---
---
---
---
---
---
Golden Apron Cooking Classes
Time to grab your apron and shake things up! Join us and learn how to make your favorite foods while enjoying a cocktail, wine or beer at a premiere local venue. Don't forget to bring along close friends or family to make it a great night out. Our chefs teach you how to make incredible food from scratch, and share inside tips that make it easy as pie.

Whether you're a kitchen novice or a long-time foodie, Golden Apron cooking classes are sure to be a fun night out and a delicious experience. We provide the ingredients, the venue and the recipes you need to cook up a fun night out.

After the cooking class, you'll find yourself more comfortable in the kitchen, a master of new skills and techniques, and looking forward to cooking up more meals in your own home for family and friends.
Your Favorite Foods From Scratch
Golden Apron cooking classes are centered around your favorite cuisines. Love sushi but never thought you could make it on your own? Want to impress friends and family with homemade pasta, or host an amazing paella dinner party? We've got you covered! Learn how to expertly select ingredients, cook and assemble in no time. All while enjoying premiere venues in your city with your favorite drink in hand.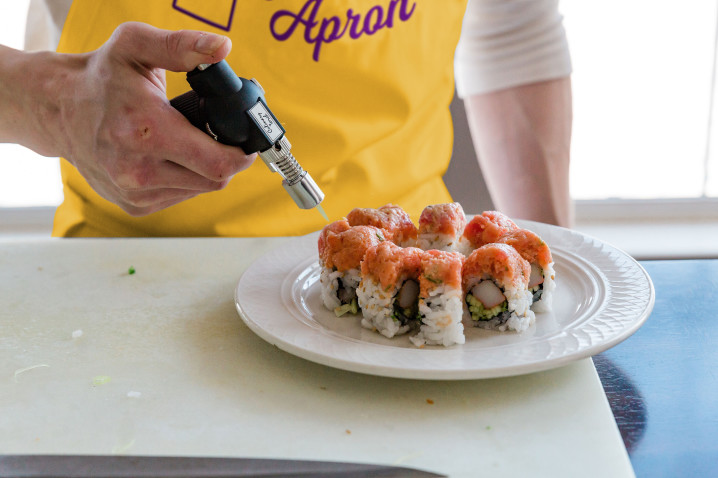 ---
Team Building That Works
Need to plan a team building activity or company outing? Golden Apron offers cooking classes that everyone will love. And nothing brings people together like food. Your whole team will learn something new with fun and delicious classes to choose from. You might even learn something new about each other as you craft a meal from scratch together!

The best part? We do all the work! Golden Apron will provide the chef, the venue and everything you need to make the night a success, making you the team MVP.

Find out more about our team building options today.


A Perfectly Planned Private Event
Looking to host a private event for a celebration? Let us set you up with a knowledgeable chef, a local bar or restaurant and the perfect menu. No matter the occasion, from a birthday party to an anniversary dinner to a bachelorette celebration and beyond, Golden Apron is the perfect place to find and book a unique and unforgettable cooking class. You'll certainly be "the host with the most." Plus, we'll do the dirty work and the clean up afterward!

Find out more about our private event options today.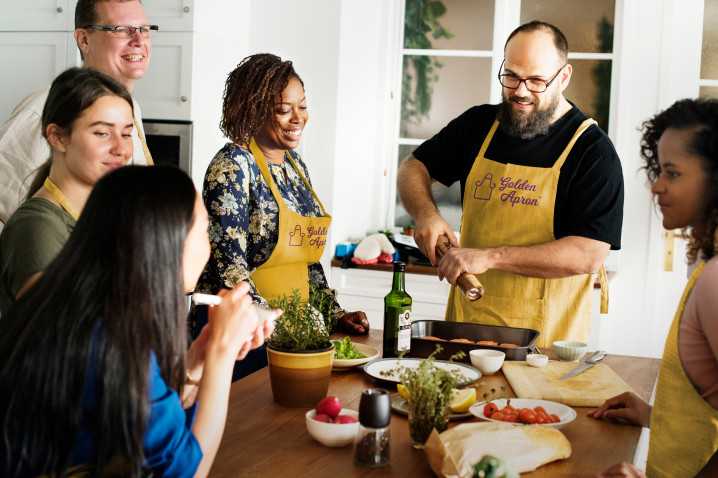 ---
More Than a Cooking Class
Golden Apron offers fun culinary adventures that are as interactive as you want them to be. Sit back and sip or slice and dice. The choice is yours! Our cooking classes are held in charming local restaurants and bars that play host to an exciting experience both beginner and well-seasoned cooks will enjoy.

During Golden Apron cooking classes, foodies of all skill levels explore their love of cooking and eating led by a local master chef, handcrafting dishes ranging from handmade Italian pasta and Spanish paella to French macarons. Between each dish, students have time to order another round of cocktails, wine or beer and catch up with friends or make new ones. Once each dish has been fully prepared, gather 'round the table and toast to an incredible meal.

Whether your culinary skills range from microwaving chicken nuggets to roasting an entire chicken, you're bound to learn something new. With wine, a cocktail or beer in hand, you can choose to sit, sip and learn as the chef cooks, or grab a knife and get to chopping, slicing and learning as you work. Under the chef's guidance, you'll learn how to cook some of your favorite dishes from scratch alongside old friends and new.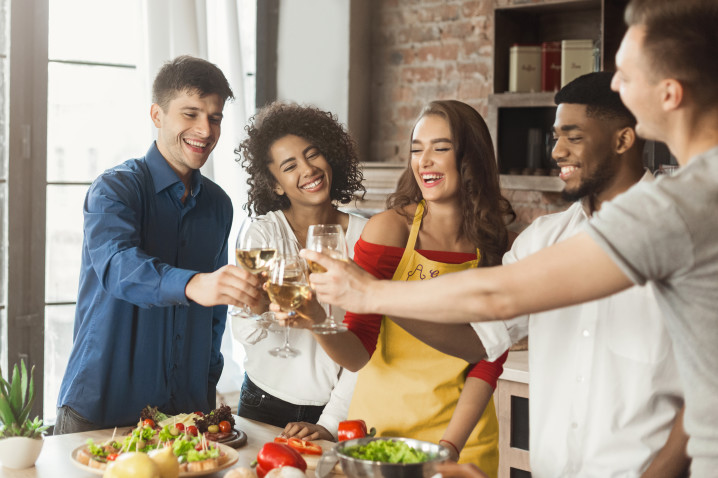 ---
What You'll Get From a Golden Apron Cooking Class
Read on for just a few of the benefits you can expect to reap from a Golden Apron cooking class:

An Out-of-the-Box Experience
Whether you book a Golden Apron cooking class with friends, family or a significant other, you can always expect an unexpected, out of the box, shared culinary experience. For couples, booking a Golden Apron cooking class is an exciting change from the same old date night. The memories you share will be something you will relish for years to come.

An Expanded Palate
Food and the culinary arts are about more than just the dishes themselves. Our chefs touch on the culture and history of your food and share their personal stories about the meal they teach you to make. Golden Apron allows you the opportunity to take your pick of almost any cuisine. From Italian, to Asian, and more, Golden Apron will introduce you to the flavors and flair of internationally cookery.

Check out what Golden Apron cooking classes are available near you and book with us today! New options are added each week.
---
Booking is easy
---
1. Choose Cooking Class
---
Pick from cooking classes offering an assortment of cuisines.
2. Select Date
---
Choose a date that works for you.
3. Book and Have Fun
---
Book with a few clicks, and get ready for a culinary adventure!
---
About us
---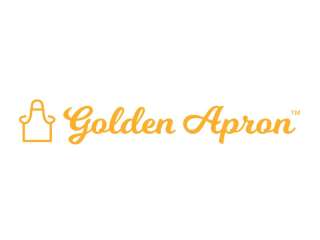 High Standards
Golden Apron chefs and venues are vetted in person to ensure our standards are met, including food safety certification requirements.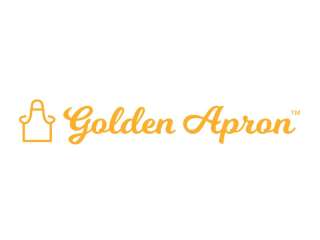 Unique
Hosted in restaurants, bars and hotels, our cooking classes feature an array of fare, including Italian, French, Asian and much more.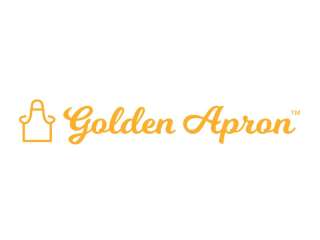 So Simple
Find a cooking class and book online easily in just a few clicks. It's a piece of cake!